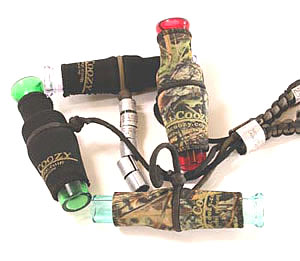 The benefits of the CALL COOZY are:

It protects your call from fading, chipping and cracking.

It reduces the risk of losing your barrel.

It prevents "lanyard noise", that annoying banging together of multiple
calls while hunting or walking.

It helps keep your call from freezing due to the insulating property of
neoprene

It reduces the glare that is produced from your shiny acrylic and
plastic calls

It increases handling ability and grip
ATTENTION WATERFOWLERS!!
Never before has such a small innovation made such a large impact on the game call industry. Very inexpensive yet very practical, the CALL COOZY is revolutionizing the way we use our game calls. The CALL COOZY is a lightweight fitted neoprene cover that fits over your duck and goose calls.
Why spend $100 or more on an expensive game call and risk damaging it in the field. Even if you prefer to use inexpensive calls and aren't worried about them breaking or chipping, the CALL COOZY is still a great addition to your calls simply to reduce lanyard noise, help prevent freezing, reduce the glare and improve your grip of the call. The CALL COOZY is very inexpensive insurance all waterfowlers and game call enthusiast must have.
The CALL COOZY comes in two sizes. The small size fits calls 1 inch or smaller in diameter. Primos and Haydel style calls would fall into the small category. The large size fits calls 1 inch or greater in diameter. Most single reed acrylic or injection molded calls fall into this category. The CALL COOZY can also be trimmed to fit the short reed and cut down style calls.
Get in on the excitement of the the CALL COOZY today while supplies last!! At only $4.49 each you can inexpensively protect all your calls PLUS take care of that hard to please hunter on your Christmas list! The CALL COOZY is made "by hunters for hunters" so you can purchase this product with confidence. Your satisfaction is guaranteed!